The Dale Probst Award recognizes Excellence in Teaching within Region 3.
Recipients of the Dale Probst Award
2017 Jim Geiger at Austin
Dale Probst was instrumental in starting the first Texas state conference, along with Jimmy Gold, his mentor. He served the Piano Technicians Guild as our President, Vice President, Secretary-Treasurer, Regional Vice President.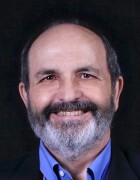 Dale served on many committees, national and regional, including the Institute Committee for four years, serving as director of the Institute in 2000. He taught technical classes at the PTG Institutes, TSA Conferences, Mid-Atlantic Regional Convention, WestPac Regional Conference, and SCRC, as well as serving as president of the SCRC Board for several years. In 1995, Dale received the Jimmy Gold Award for service to the Texas State Association of PTG. He received many other regional and national awards over the years. At the Atlanta Convention in 2014, he entered the PTG Hall of Fame, and then Dale received our highest award offered, the Golden Hammer Award, at the 2015 PTG Institute in Denver. He gave himself and his talents selflessly to the Guild, and especially to TSA and the South Central Regional Conference. This award pays homage to this amazing individual.